About Gemma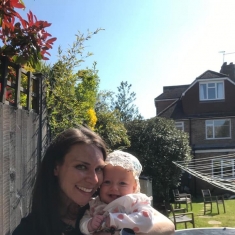 I pride myself in being approachable and empathetic and care about the goals my clients are working towards.
I started off my career as a professional contemporary dancer and worked for dance companies around the UK. This sparked off a passion for health and fitness and in 2009 I decided to take a new career path and trained to be a personal trainer.
I started out in LA Fitness in the City of London, where I gained great reward from seeing clients always improving and quickly realised that I was really passionate about helping people to gain the results they wanted. I work together with my clients to make sure they feel supported at all times and programmes are tailored specifically to their wants and needs.
I have always been described as a nice task master and pride myself on bringing the best out of my clients.
Alongside fitness I also have a huge interest in nutrition. I felt that the knowledge I had gained during my Personal Training course was really too basic for my clients and didn't get them the results we desired. Therefore, I studied Nutritional Therapy to really enhance my knowledge, so that I could give all the right advice. This has been a massive benefit to the way I work with my clients and has generated great results. This is because I am able to really get to the bottom of potential physiological imbalances that may be affecting the results we are trying to gain. Then through tailored nutrition and exercise I can help work towards not only my clients fitness goals but optimum health. This really helps them to gain confidence and be proud of what they can change and achieve.
I am very supportive throughout their journey and really believe in making it a team effort.
I am a new mummy to my little girl Willow! Pregnancy, giving Birth and the first few months of raising this little one have been such a beautiful experience (apart from the sickness in the first trimester!) and I am happy to say I have exercised the whole way through my pregnancy and began slowly rebuilding myself back up after Willow was born.
In addition to Personal Training and Nutrition for Gemma Fitness works with a company called in:spa. They run fitness holiday retreats, which transform your body and leave you feeling energised. We fly out to luxury locations with a team of personal trainers, yoga teacher, massage therapist, nutritional therapist and chef, and you will be supported through the week to achieve your personal goals. For more info please visit: http://www.inspa-retreats.com.
Specialisms
Rehabilitation for back pain
Qualifications
REPS level 3 Personal Trainer
Level 3 Advanced Personal trainer
Nutritional Therapist
ViPR certified trainer
Pre and Postnatal
Spin Instructor
Insanity Instructor
PiYo Instructor
Boxercise and Kickboxercise Instructor
Functional Movement Screen (FMS)
Kettle Bell
First Aid