Weight Loss Personal Training Brighton & Hove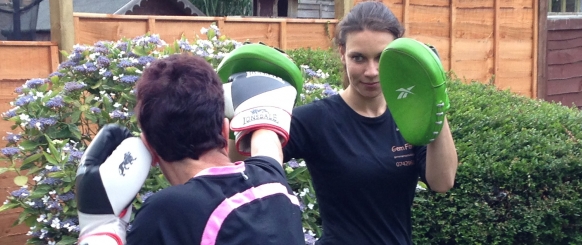 Are you sick of fad dieting, or starting a weight loss programme only to fall off the wagon on day 5? Weight loss personal training is a battle and involves forming new habits and breaking through emotional barriers. It is tough.
Gemma Fitness provides physical, mental, emotional and nutritional support to help you win the battle and give you your health, happiness and confidence back.
Our weight loss personal training is tailored specifically to you and doesn't involve calorie counting. Your training sessions will focus on cardio and resistance training to help burn fat and maintain lean muscle mass. We will also work on building new habits into your daily routine which will support the hard work you are putting into your training.
An initial consultation will include a physical analysis of your current health and fitness levels. This includes building a detailed picture of your lifestyle, exercise, nutritional habits, medical history and your motivation for losing weight, as well as answering any questions or concerns you may have. A personal weight loss routine will then be developed to meet your individual needs.
To find out more about weight loss personal training in Hove and surrounding areas call Gemma Fitness on 07429 610899 or email info@gemmafitness.co.uk
6 WEEK WEIGHT-LOSS PROGRAMME
We now offer a 6 week online weight-loss programme that is guarenteed to help you lose weight, feel more energised and leave you feeling healthier. Each week has a different focus. You will not be asked to count calories, you will not feel deprived of foods, you will be encouraged to change habits that are easy to stick to even when you finish the programme.
Each week you will get emailed a pre-recorded session, where I talk you through your goals for the week and why I am asking you to do this. You will also get a pdf doccument that supports this recording with workouts and recipes to support you through the week. I also ask you to email me a three day food, mood, sleep and exercise log each week so that you get personal advice alongside the generic information. This gives the programme a really personalised feel and makes sure it is targetted to you as an individual.
The programme is £160.00 for the 6-weeks and you will feel amazing at the end.
I work in the City in London. I have a busy and very active professional and social life and my work demands long hours and several business meetings over lunch/dinner. I am 45 years of age and despite being relatively fit, I had begun to realise that I needed to change my lifestyle! I agreed to a 10-week course with Gemma that has now run for over 15 months. I see Gemma weekly and the results have been incredible. I have lost weight, lost body fat and gained definition that I never thought I would have in my mid 40s. The programmes are varied and challenging and Gemma's advice on overall training and diet have certainly contributed to the results. I would recommend Gemma, she drives you hard but the outcome makes it very rewarding. Most of all Gemma creates a great atmosphere when training you hard so every session is something I really look forward to.

Andrew