Narelle Taylor - Pre and Post Natal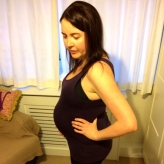 I started training Narelle along side her husband around a year ago. Narelle had previously run a half marathon and had stayed relatively active, however, her husband had never really done much. It was nice to get to train them both together and it really gave them both a competitive streak. They had a great work ethic and always put their all into sessions.
A couple of months into training we found out that Narelle had fallen pregnant, which was great. It also became intersting for me as sessions had to be tailored very differently as they were both still up for training together. I worked with them both the whole way through Narelle's preganancy with the last session being only a few days before she gave birth to baby Jack. She was amazing and it was so great to see how much exercise helped with both strength and energy through her pregnancy. It is even more impressive that Narelle had no diastis recti and this has meant she has come straight back to training 6 weeks post birth healthy and strong.
20.02.2017
"I have been training alongside my husband with Gemma for a year now. A few months into training, I fell pregnant and was unsure if I could continue safely training. Gemma worked with me over the 9 months to ensure I stayed healthy and fit. In total, I put on 9kg in preganancy weight and I had no back pain, swelling, sleeping problems or any other issues that other prgnant women seem to experience particularly in late preganancy. We continued training with Gemma 2 days a week up until I was 39 weeks and I only finished up at that time because it was Christmas. I would have been happy to continue on! I'm not a fitness fanatic (I don't do anything other than train with gemms and walk from place to place), I eat normally etc but the consistency of working with Gemma helped me to have a happy comfortable pregancy and at 7 weeks post partum, I happily restarted my sessions having completely healed weeks earlier (even after stitches from both an episiotomy and a tear). I can't recommend Gemma highly enough"